Dr. Baowei Fei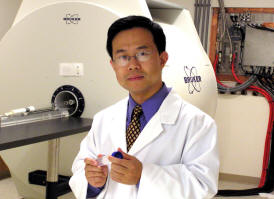 Baowei Fei, PhD, EngD

Director, Precision Imaging Research Division
Director, Quantitative Bioimaging Laboratory (QBIL)
Associate Professor of Radiology and Biomedical Engineering
Georgia Research Alliance Distinguished Cancer Scientist

Emory University School of Medicine
Georgia Institute of Technology


Dr. Fei is Director of the Quantitative BioImaging Laboratory (QBIL) and Director of Precision Imaging Research Division. He is an Associate Professor with tenure in the Department of Radiology and Imaging Sciences at Emory University School of Medicine. He is also a Primary Faculty member in the Coulter Department of Biomedical Engineering at Emory University and Georgia Institute of Technology. He is a faculty member in the Department of Mathematics and Computer Sciences at Emory University. Dr. Fei is a Georgia Research Alliance Distinguished Cancer Scientist.

Dr. Fei is a national leader in quantitative imaging and image-guided interventions. He serves as Conference Chair for the International Conference of SPIE Medical Imaging - Image-Guided Procedures, Robotics Interventions, and Modeling from 2017-2020. The SPIE Medical Imaging Conference is the internationally recognized premier forum for reporting state-of-the-art research and development in medical imaging. Dr. Fei served as the Chair for the National Institute of Health (NIH) Study Section ZRG1 SBIB-J (56) on Imaging and Image-guided Interventions and also co-Chair for multiple NIH and Department of Defense (DOD) Study Section Panels. He served as an Associate Editor for Medical Physics, an Editorial Board Member for five journals in the field of biomedical imaging, and a reviewer for more than 20 international journals in medical imaging. Dr. Fei has presented internationally and is widely published in the field of medical imaging.

Dr. Fei is a leader of biomedical imaging research at the local and university levels. He was Chair of the Planning Committee for the Integrative Cancer Imaging Research Program (iCIRP) at Emory University and Georgia Institute of Technology, which is a multidisciplinary initiative for cutting-edge research on quantitative cancer imaging and image-guided therapy. He serves as multiple committees at the university, school, and department levels. He organized the Atlanta Clinical Translational Science Institute (ACTSI) Molecular and Translational Imaging Workshop.

Dr. Fei received numerous national awards including the Academy of Radiology Research (ARR) Distinguished Investigator Award and the Society of Nuclear Medicine and Molecular Imaging (SNMMI) Young Investigator Award. He was a recipient of the Department of Defense Post-Doctoral Traineeship Award. His research on prostate cancer imaging and image-guided therapy was highlighted by the Department of Defense in 2003 and 2006. He also received multiple prestigious awards at the university and regional level including the Emory 1% Award and Georgia Cancer Coalition Distinguished Scholar Award.

Dr. Fei's NIH-supported research has emphasized applying multimodality imaging (PET/CT, PET/MRI, ultrasound, and optical imaging) to the detection, diagnosis, and therapy of various diseases including cancers and heart diseases. Dr. Fei's current research projects include multimodality image (PET/MRI/ultrasound) guided biopsy, advanced computer algorithms for medical processing and analysis, hyperspectral imaging for early detection of cancers and image-guided surgery, development of software tools for medical applications, and image-guided focal therapy. In his laboratory, Dr. Fei enjoys mentoring undergraduate and graduate students, post-doctoral fellows, and residents when they undertake research projects.

In 2017-2020, Dr. Fei serves as Conference Chair for the International Conference of SPIE Medical Imaging: Image-Guided Procedures, Robotic Interventions, and Modeling.
Visit the SPIE Conference Website
Download SPIE Call-for-Papers
Education:
Ph.D.&nbsp &nbsp &nbsp &nbsp Case Western Reserve University, Cleveland, Ohio
M.S.&nbsp &nbsp &nbsp &nbsp &nbsp Case Western Reserve University, Cleveland, Ohio



Contact Information:
E-Mail: &nbsp &nbsp bfei@emory.edu
Phone: &nbsp &nbsp (404) 712-5649
Website: &nbsp www.feilab.org


Publications:
View Dr. Fei's Bibliography from NCBI